Ready to be inspired to dance West Coast Swing?
Whether you are an avid social dancer, a driven competitor or a committed workshop attendee, we have a fun & entertaining weekend planned for all of you! Be prepared for entertainment by the best WCS professionals in the world. Featuring a new competition format which will keep you smiling! 
Make sure to invite all of your friends to our "Intro to West Coast Swing" workshops on Friday & Saturday!
SwingTime is back and ready to welcome you to the dance floor!
Full  Weekend Ballroom Pass
 "Early Bird" – 
$168
(until 11:59pm
6-22-22
)
"Late Bird" – $188 (until 11:59pm 7-20-22)
International Pass -$98 (until 12:59pm 6-22-22)
 All Star/Champ Pass – $88 (until 11:59 6-22-22)
Junior's Pass- $88
* 4 Nights of Dance Parties
* Top World Champions & Instructors
* Best DJ's from the US & Europe
* Over 28 hours of Workshops & Seminars
* Fun & Competitive Dance Contests
* Social Dancing Day & Night
* 3 Nights of World Class Shows
* Premier Dance Floor & Ballroom
*New W.O.W. Showtime Routine Division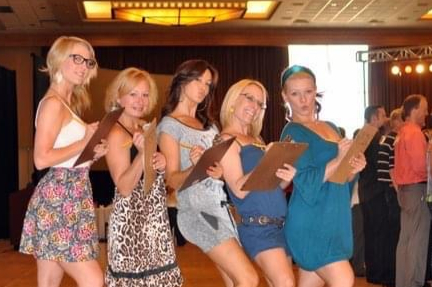 SwingTime Denver will be awarding prize money & trophies to the following divisions:
* WSDC Jack & Jill Competitions
(Newcomer, Nov, Int, Adv, Allstar,
Champions, Masters & Juniors)
* All American Jack & Jill
* Pro/Am Strictly Swing (Nov & Int)
* Strictly Swing Divisions:
(Nov/Int, Open/Allstar, Masters & Pro)
* Generational Strictly Swing
* Pro/Am Routine Division
* Rising Star Routine Division
~All contest require a
FULL WEEKEND PASS
and entry fees to participate~
SwingTime Presents
World-Class Talent in Denver!
SwingTime is bringing world-class talent to Denver!
Join us for a weekend of top-notch performances, workshops, and intensives with the reigning US Open Champions and legendary pioneers. Our exceptional team of DJs from across the USA and Canada, including Denver's hometown stars, will provide the perfect soundtrack for the event. Don't miss the opportunity to learn from these experienced professionals and take your dancing to the next level. Get your tickets now for an unforgettable weekend of swing dancing and fun!
SwingTime Dance Contests!
Get ready for an incredible contest experience at SwingTime - where there's something for everyone!

Whether you're a seasoned competitor or a first-time participant, we've got you covered with a variety of contests that cater to different skill levels and age ranges. Take this opportunity to dance with your instructor in the Pro/Am divisions, or join forces with someone who has a 20-year age difference in the Generational Strictly.

Our WSDC Jack & Jill contests are the perfect way to earn points and show off your skills, with experienced judges and carefully selected music to ensure an enjoyable and fair experience for all. And if you're looking to be in the spotlight, our showtime events feature Rising Star Routines and the WOW Showtime Invitational - all designed to showcase the best of swing dancing.

So come and be a part of the excitement at SwingTime in Denver! It's the perfect opportunity to dance, compete, and have fun with other passionate swing dancers from across the country. Don't wait - get your tickets now and join us for an unforgettable weekend of dance and camaraderie.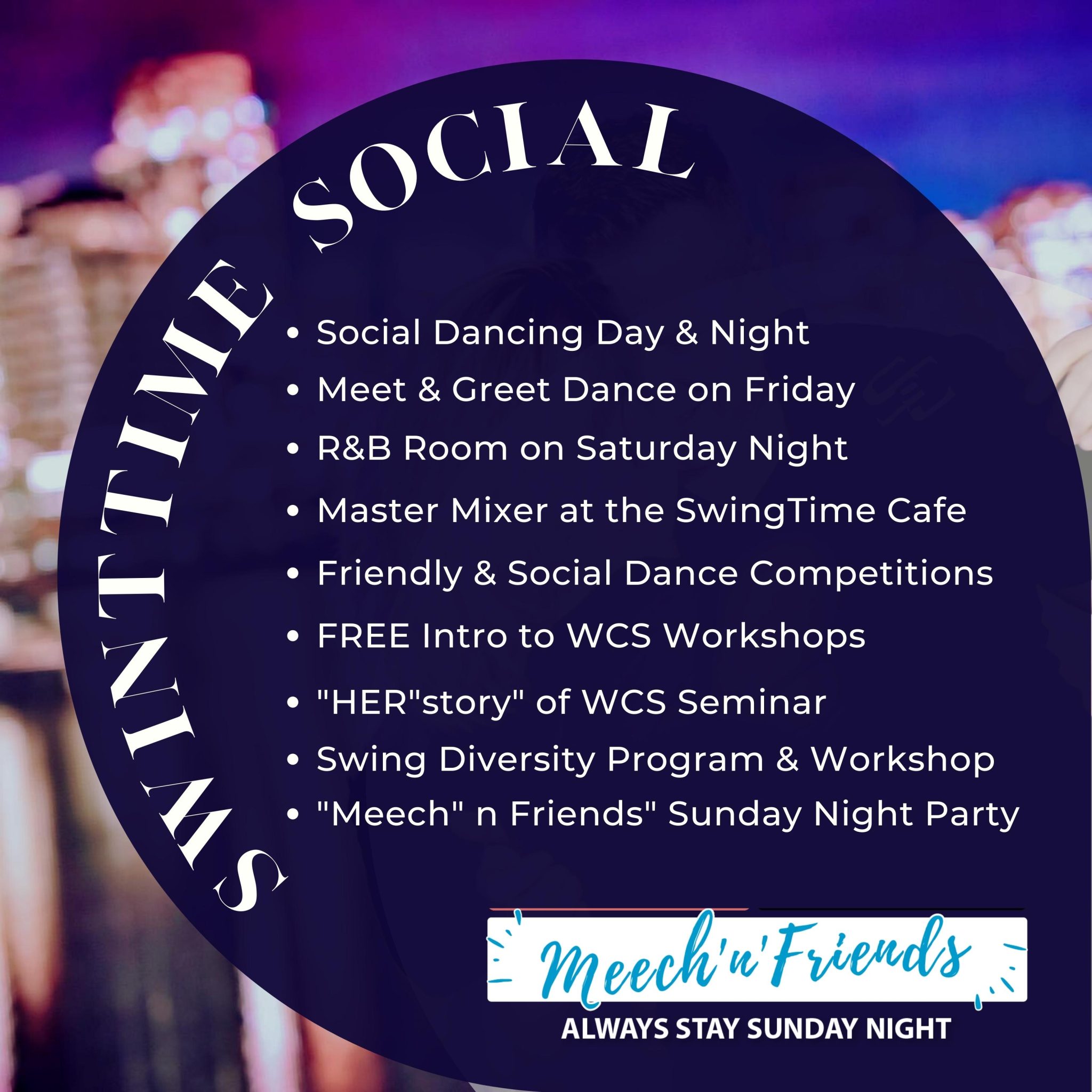 SwingTime, where dancers come to move together!
Welcome to SwingTime, where dancers of all levels and backgrounds come together to move and connect! We can't wait to share our love of dance with you and introduce you to a community of fun-loving and supportive dancers from all over the world.
Whether you're an experienced pro or a newcomer to the scene, there's something for everyone at SwingTime. Join us for our fun and inclusive social contests, where you can meet new friends and show off your skills. From the ALL American Jack & Jill to the Generational Strictly, we have a variety of contests that pair dancers of different levels and ages.
But SwingTime isn't just about competitions - it's about creating a positive and supportive community. That's why we offer seminars and workshops that focus on the well-being of dancers and the dance community. And during the contests, we provide a social practice room where you can dance, learn, and have a great time with your fellow dancers.
Finally, don't miss out on our featured Rhythm & Blues room on Saturday night - it's the perfect opportunity to let loose and dance the night away!
So come and join us for a weekend of fun, friendship, and dance at SwingTime!
This series of intensives will be focused on the mind and movement of a competitor. From the social competitor to the routine dancer, these world champions know what it takes to bring your best! More details to come!
*90 min sessions: $25 per session
(must be a weekend pass holder)
Thibault & Nicole Ramirez
Friday

Gary McIntyre & Susan Kirkland
Friday

Tatiana Mollmann
Saturday

Benji Schwimmer
Saturday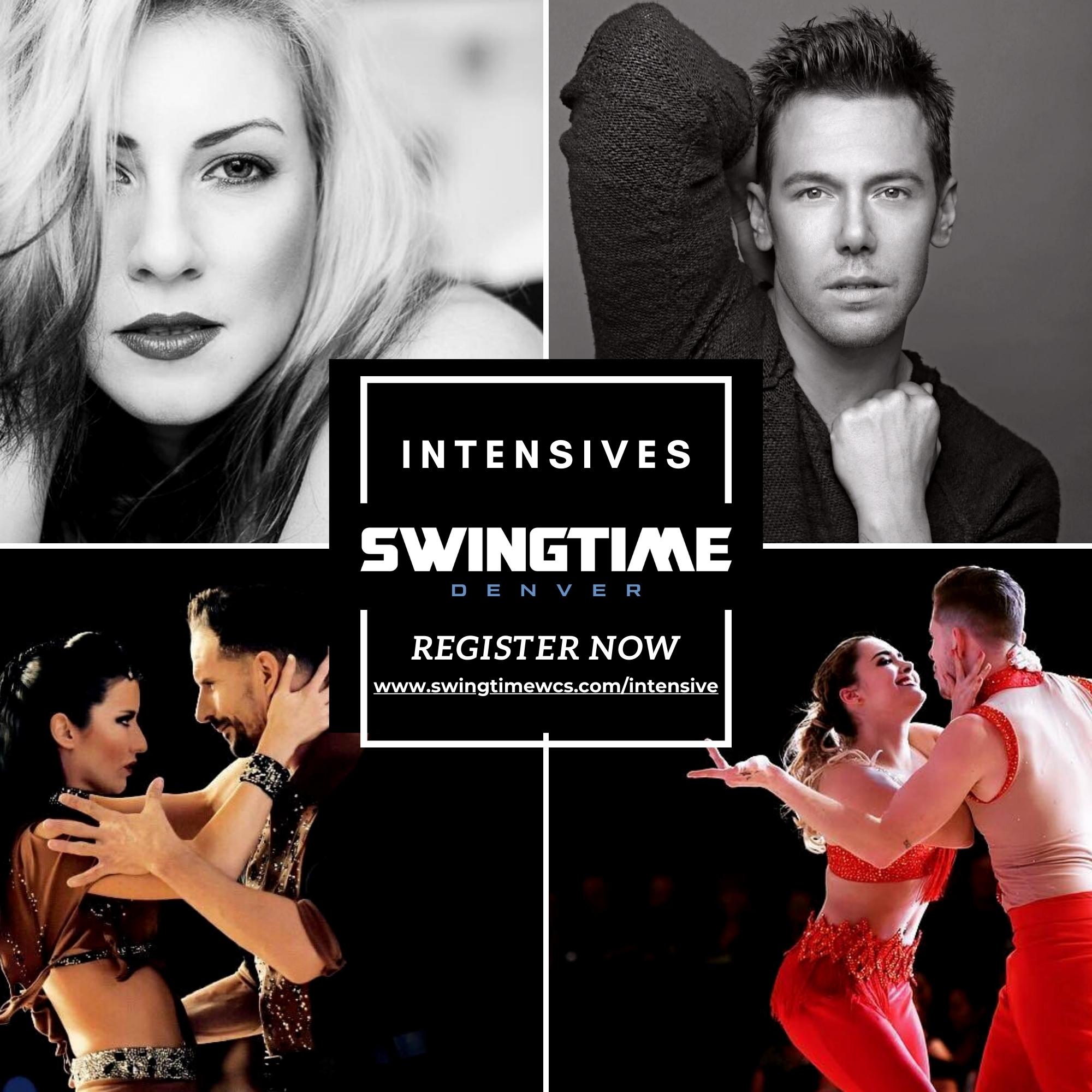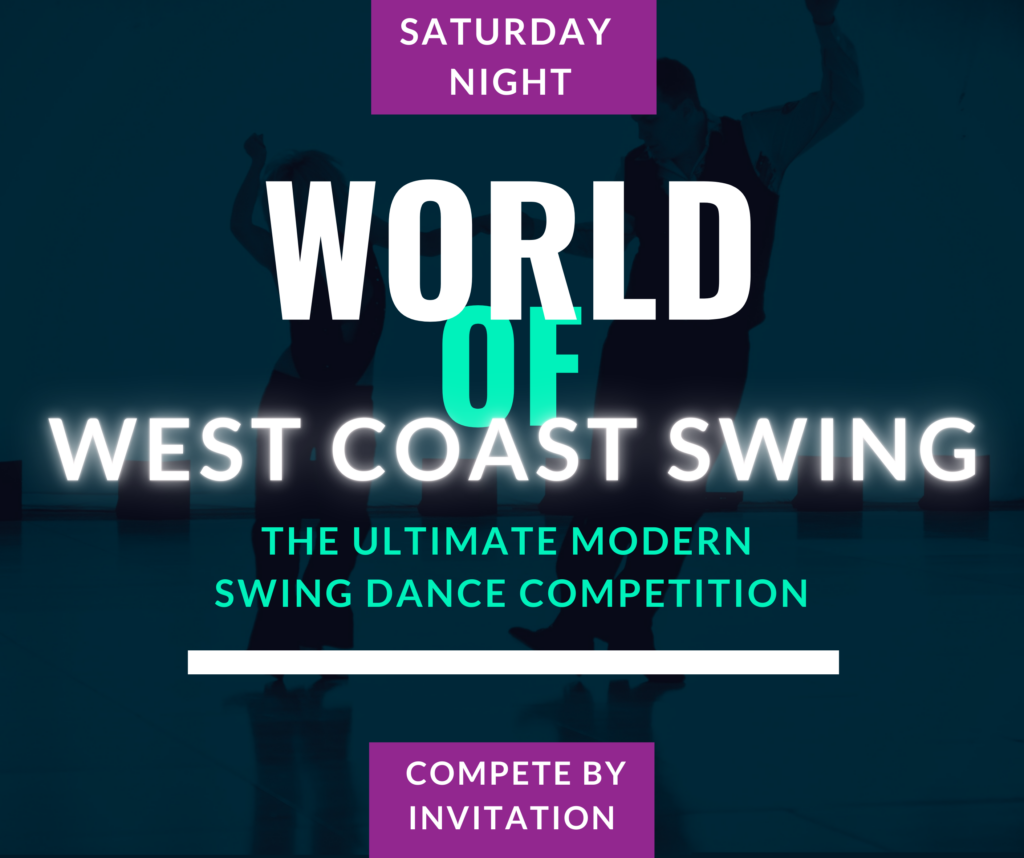 World of West Coast Swing
Get Ready to Be WOWed by World Champion Dancers at SwingTime!

SwingTime is excited to bring back the World of West Coast Swing (WOW) division! This modernized format for West Coast Swing choreography allows dancers to showcase their best 90 seconds of dance to music of their choice. The possibilities are endless and we can't wait to see what these talented artists will bring to the WOW division show!

This year, WOW will be an invitational division, featuring some of the world's top champion dancers. Get ready to witness a display of creativity, skill, and passion that you won't forget! Don't miss out on this incredible opportunity to see the best of the best in action at SwingTime!