Ready to be inspired to dance West Coast Swing?
Whether you are an avid social dancer, a driven competitor or a committed workshop attendee, we have a fun & entertaining weekend planned for all of you! Be prepared for entertainment by the best WCS professionals in the world. Featuring a new competition format which will keep you smiling! 
Make sure to invite all of your friends to our "Intro to West Coast Swing" workshops on Friday & Saturday!
SwingTime is back and ready to welcome you to the dance floor!
Full  Weekend Ballroom Pass
 "Early Bird" – 
$168
(until 11:59pm
6-22-22
)
"Late Bird" – $188 (until 11:59pm 7-20-22)
International Pass -$98 (until 12:59pm 6-22-22)
 All Star/Champ Pass – $88 (until 11:59 6-22-22)
Junior's Pass- $88
* 4 Nights of Dance Parties
* Top World Champions & Instructors
* Best DJ's from the US & Europe
* Over 28 hours of Workshops & Seminars
* Fun & Competitive Dance Contests
* Social Dancing Day & Night
* 3 Nights of World Class Shows
* Premier Dance Floor & Ballroom
*New W.O.W. Showtime Routine Division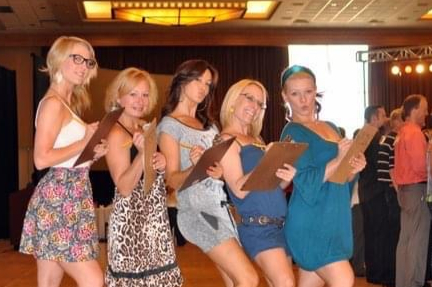 SwingTime Denver will be awarding prize money & trophies to the following divisions:
* WSDC Jack & Jill Competitions
(Newcomer, Nov, Int, Adv, Allstar,
Champions, Masters & Juniors)
* All American Jack & Jill
* Pro/Am Strictly Swing (Nov & Int)
* Strictly Swing Divisions:
(Nov/Int, Open/Allstar, Masters & Pro)
* Generational Strictly Swing
* Pro/Am Routine Division
* Rising Star Routine Division
~All contest require a
FULL WEEKEND PASS
and entry fees to participate~
World Class Talent
is coming to Denver!
SwingTime is bringing in the best!
From the current US Open Champions to the legends that paved the way, the talent will be flowing all weekend!
Join in on the chance to learn from these amazing experienced professionals through workshops, seminars, private lessons, and intensives! The music is everything!
SwingTime is thrilled to have Europe's favorite DJ joining the primo team of DJ's from all over the USA and Canada, including Denver's hometown stars!
SwingTime Dance Contests!
There's a contest for everyone! SwingTime is ready for you!

Come and enjoy the beautiful dance floor, lighting, and ballroom that will be featured in all the competitions and shows!

Take this opportunity to dance with your Instructor in the Pro/Am Strictly and Pro/Am Routine divisions, or join in the Generational Strictly with someone who has a 20 year age difference.

WSDC Jack & Jill contests are serving out the points at SwingTime, come and get yours. With experienced judges and carefully crafted music, our chief judge will ensure your competition experience is smooth and enjoyable!

It's Showtime in Denver! From the Rising Star Routines, Master and Junior performances, to the WOW Showtime Invitational, be in your spotlight and shine!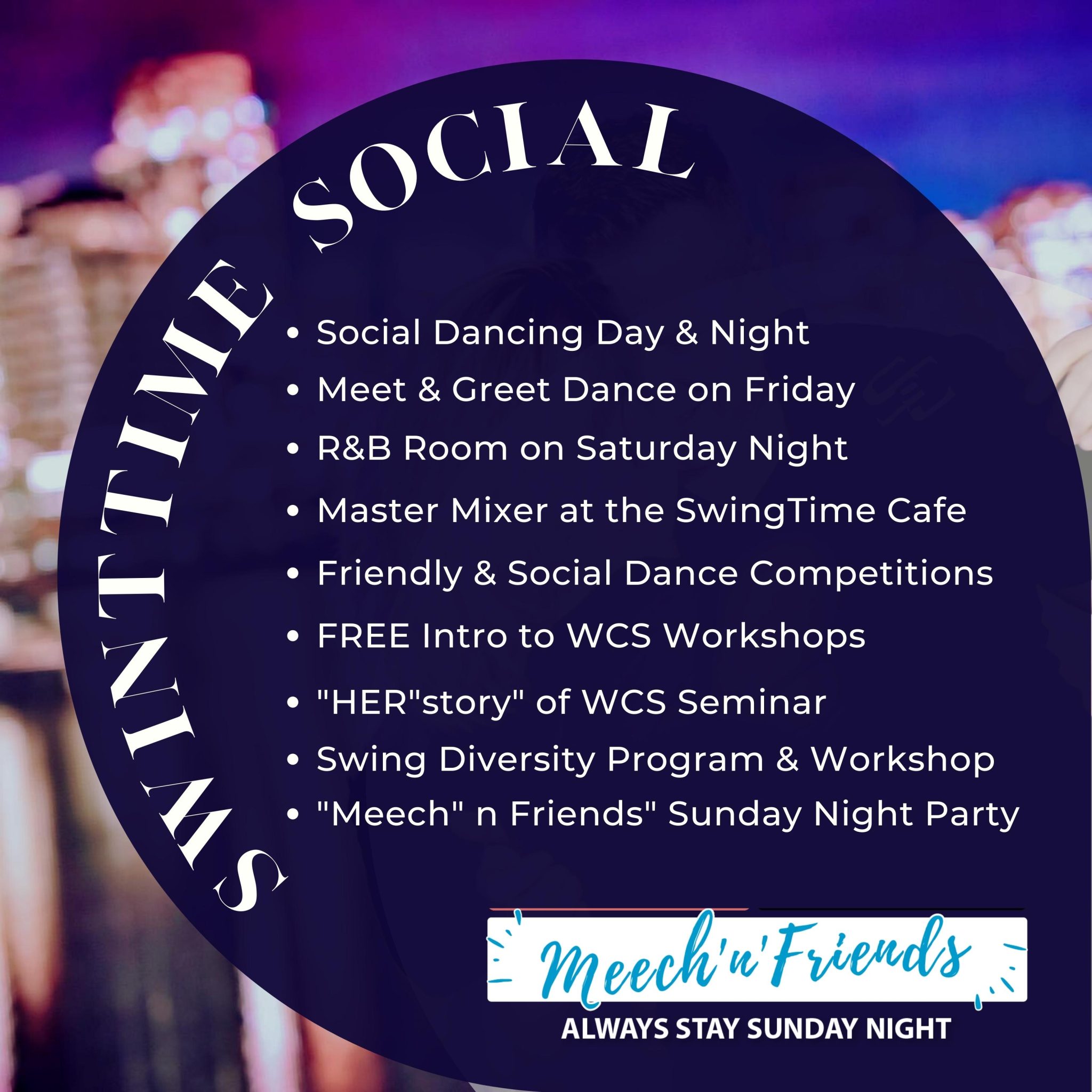 SwingTime, where dancers come to move together!
Experience all the wonderful opportunities to meet new dancers and friends from all over the world! Join in on the fun social contests for new and experienced dancers.
From the ALL American Jack & Jill that welcomes all levels of dancers together, to the Generational Strictly that pairs dancers from all generations together. SwingTime is a place for COMMUNITY and KINDNESS... take part in one of the amazing seminars that focus on the "well being" of the dancer and the dance community.
There will be a social practice room during contests and a featured Rhythm & Blues room Saturday night! From the Masters Mixer to the Newcomer workshops, SwingTime has a weekend of awesomeness planned for you and your new friends!
This series of intensives will be focused on the mind and movement of a competitor. From the social competitor to the routine dancer, these world champions know what it takes to bring your best! More details to come!
*90 min sessions: $25 per session
(must be a weekend pass holder)
Thibault & Nicole Ramirez
Friday

Gary McIntyre & Susan Kirkland
Friday

Tatiana Mollmann
Saturday

Benji Schwimmer
Saturday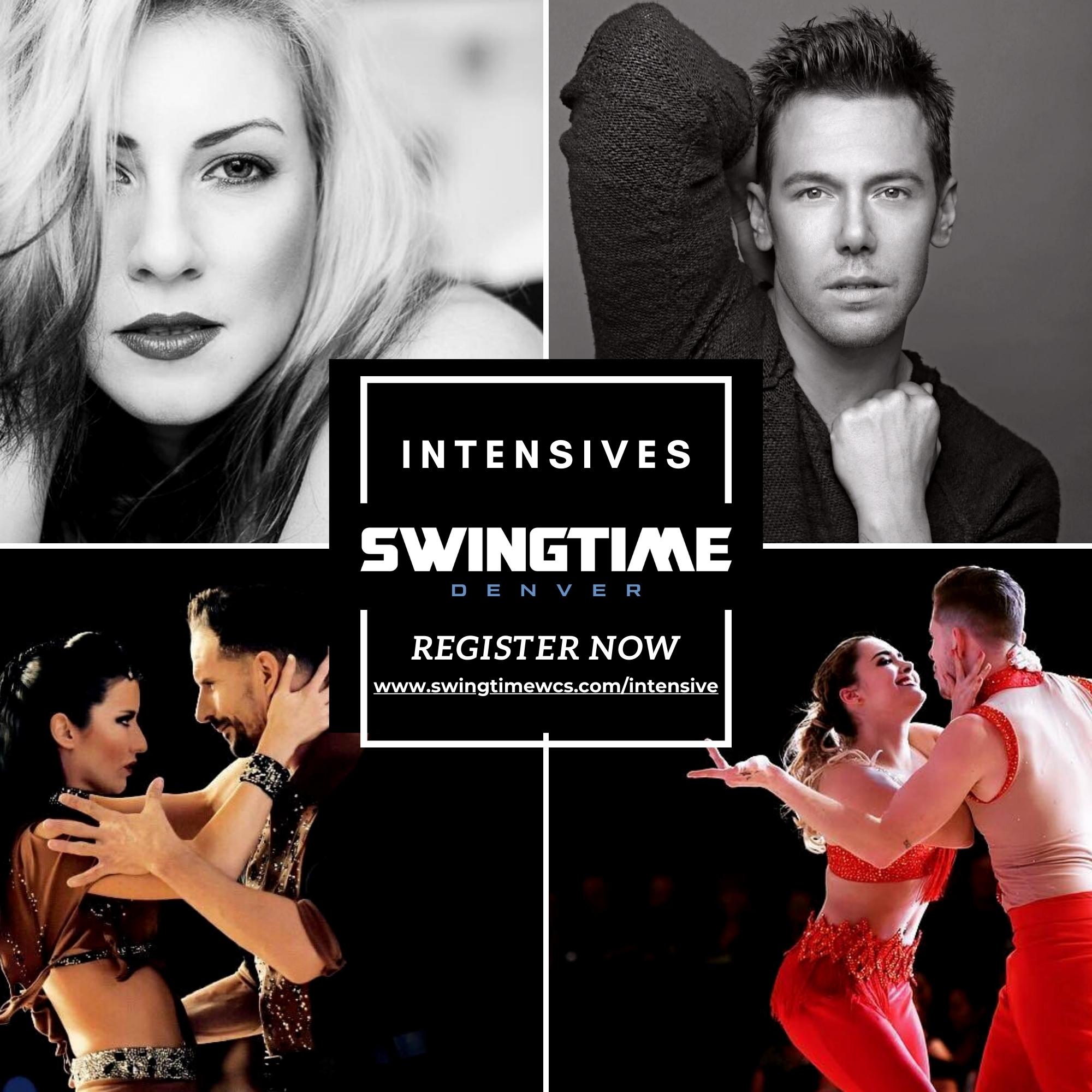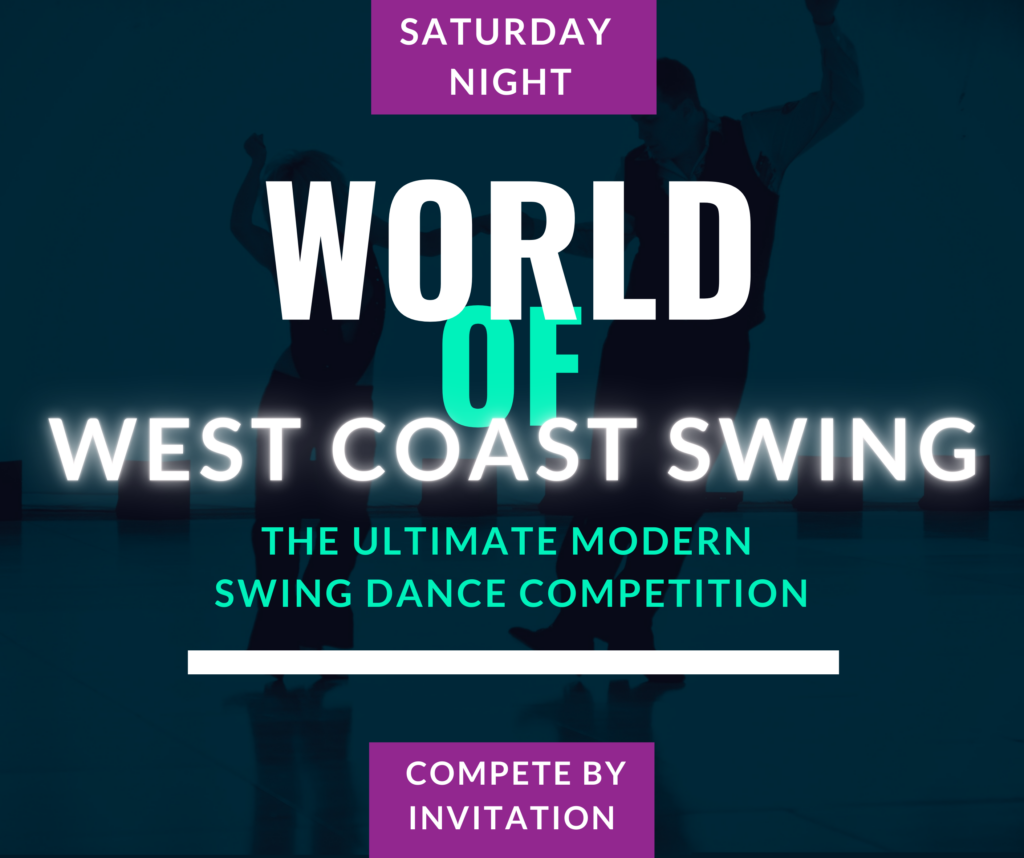 World of West Coast Swing
SwingTime will be featuring W.O.W. again!


WOW is a modernized format for West Coast Swing choreography. Dancers will bring their best 90 seconds to their music of choice. There are no limitations to what the artists can do. We can't wait to see what these World Champion Dancers will bring to the W.O.W. division show! This year WOW will be held as an INVITATIONAL division.